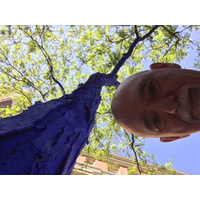 Charlie Hunt, member of Partnering for Peace: Friends of Peace Corps and Rotary board of directors, has joined the Returned Peace Corps Volunteers of Colorado board of directors and is the organization's new president. Charlie served as a PCV in Vanuatu from 2006-08 where he served as a business enterprise volunteer. He served along with his wife Nancy Cole who was a community health volunteer. RPCV of Colorado is a vibrant organization that supports the RPCV community across the state. Charlie's vision is to increase the organization's focus in working with immigrant population as part of membership community service opportunities.
Charlie has been instrumental in developing a toolbox of resources for Rotarians to use in their districts' to leverage the partnership agreement between Peace Corps and Rotary. You'll find that toolbox at this website.
Charlie retired from the Downtown Denver Partnership in 2018 where he worked in operations for the Downtown Denver Business Improvement District. His main focus was the care of street trees in the district and improvement of the canopy in downtown.
---