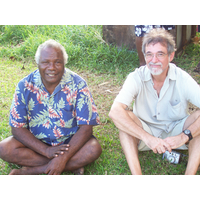 It has been my pleasure to be part of the Rotary International – Peace Corps partnership for the last three years as the Outreach Chair for Partnering for Peace: Friends of Peace Corps and Rotary. As the partnership grows and increases in scope, our outreach committee is currently focused on connecting local Peace Corps Recruiters with local Rotary Club programming chairs through our database of Returned Peace Corps Volunteers Rotarians and district leaders who fully understand the opportunity of working with the Peace Corps community. The outreach committee, under the lead of Reggie O'Brien, has made introductions between Peace Corps Recruiters and 80 Rotary Districts around the country who are in our database. The purpose of the introductions is for Peace Corps Recruiters to do presentations in as many Rotary clubs across the U.S. on what it is like to be a Peace Corps Volunteer and that it is never too late to be a Peace Corps Volunteer.
I can attest to that as I was sworn in as a Peace Corps Volunteer when I was 55 years old. The inspiration came when I happened upon the Peace Corps website and the home page celebrated a volunteer who was celebrating his 80th birthday during service. As Rotarians, this is a great way to fulfill "service above self". Personally the experience changed my life as a Rotarian serving overseas and I would suggest to everyone that Returned Peace Corps Volunteers are idea candidates to become Rotarians. There are two opportunities to be a Peace Corps Volunteer: the classic two year commitment and Peace Corps Response, which is a project specific volunteer opportunity that last for three to eight months.
If you are interested in having a Peace Corps Recruiter do a zoom presentation to your Rotary club, feel free to contact me. I have a list of all recruiters around the country including my local District 5450. I would be glad to help you make that connection for your individual club.
Charlie Masilae Hunt
Outreach Chair - Partnering for Peace - NPCA Affiliate Group
Peace Corps Rotary Alliance Committee – District 5450
Denver LoDo Rotary Club
RPCV Vanuatu 2006-2008
Mobile 720.822.1413
masilae@gmail.com
---