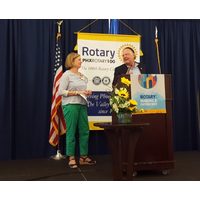 Member Involvement Is Key to Strengthening the Connections Between Rotary and the Peace Corps!
By Mark D. Walker, Membership Chair
During our Annual meeting call many members shared how they were already individually pursuing our partnership goals. Many ideas and plans that emerged from our discussions, reminding me of the key role our members play in strengthening the partnership between Rotary and the Peace Corps. So how can you use your talents and connections to help strengthen the impact our partnership has around the globe and grow this group from 50 to more than 75 members?
To begin with, consider yourself an "advocate" who introduces the group to fellow Rotarians and Returned Peace Corps Volunteers. The board members have made presentations about P4P to Rotary Clubs around the globe, as have many of you. Here is a presentation template for you to customize. Also, one effective tool for our presentations, which is especially helpful for those of you who don't like to speak in front of a group, is to use one of the professionally produced videos found on PFP home page here . You can choose from projects in Costa Rica, South Africa and a new video of a program in the Dominican Republic:
When you do speak or represent P4P, be sure to share your story on the impact P4P has had on your life and your career—make it personal. Share those stories with us so we can include them on our Facebook and website. We are always looking for stories about why you joined P4P and what makes the partnership special to you.
Another great tool is our "Membership Toolkit," which provides materials and links to our promotional videos. You can find this on our website as well.
Here are some other opportunities to make a difference:
Represent P4P at Rotary District Conferences and NPCA conferences. Set up a booth!

Take a lead in consistent posting on the PFP Facebook page and other social media.

We find one of the best ways to stay on top of NPCA and Rotary clubs opportunities for partnership is to create an Alliance Committee with representatives from both NPCA and the Rotary district. Could you engage your leaders to see the interest for this and help kick it off? It could also to help recruit Returned Peace Corps Volunteers in your area to become Rotarians—that will make both your Club President and your District Governor very happy!

Connect your country of service Rotary/Rotaract clubs that have similar goals to the Peace Corps country mission to promote joint projects. This will take some outreach to the country director and various Rotary clubs in country and PFP can help you make those connections.
These are just a few of the ways you can step out and help strengthen the partnership between Rotary and the Peace Corps and build our membership base. Thank you for your support!
---