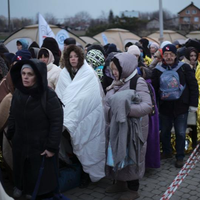 RPCVs who served in the Ukraine, in collaboration with the Las Vegas WON Rotary Club have developed a Global Grant to support the immediate, and basic human needs in Ukraine. Donations are still being accepted and will go to four Ukrainian NGOs were where PCVs worked when they served in Ukraine. RPCVs were involved with vetting the organizations and how they can work with Rotary clubs in Ukraine and other countries.

The objectives of this project are to:
- Support the immediate humanitarian needs of IDPs in at least four local entities in 2022.
- Empower local communities to determine the most helpful and efficient use of humanitarian aid funding based on their own unique communities' needs assessment.
- Develop sustainable partnerships with the grantee communities, their Rotaractor, and Rotary International for ongoing evaluation and assessment of the impact of grant investment.
The beneficiaries of this project will be at least four Ukrainian communities, at least four local NGOs, and thousands of IDPs.

Learn more.
---