In this issue: 1) How You Can Strengthen the Partnership 2) Partnership in Action: Macedonia 3) PFP Award Nomination
Call to Action: Members are the Key to Strengthening the RI/PC Partnership
By Mark Walker, Membership Chair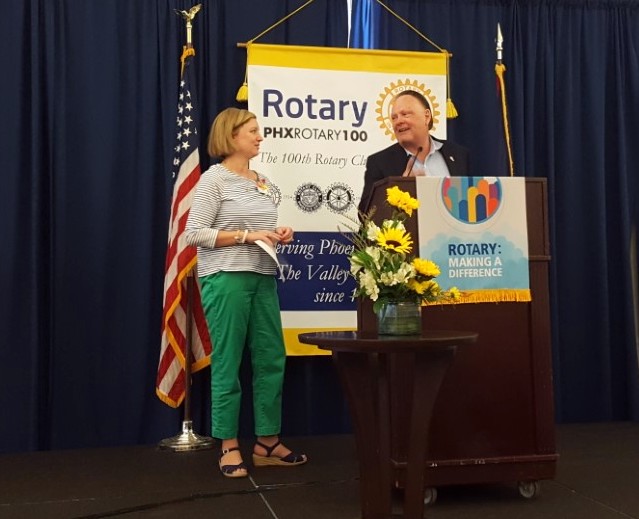 During our annual meeting many members shared how they were already individually pursuing our partnership goals. The excitement of our members inspired us to pull together all the ways members can promote the partnership or get involved with our work directly. So how can you help strengthen the impact our partnership has around the globe? A few ideas to get started:
Spread the Word: Present to your local Rotary club and/or RPCV group
Reach Out: Connect your country of service with a local Rotary club
Represent: Host a table at a Rotary or PC meeting or event
Band Together: Create an Alliance Committee for your Rotary District
Share Your Skills: We are looking for researchers, writers, social media gurus and more! Email Kim at kydixon@earthlink.net
For a complete list of ways to get involved, read the full letter to members. 
Partnership in Action: North Macedonia

Rotarian and recently evacuated Peace Corps Volunteer, Cal Mann, shares his experience partnering with Rotary in North Macedonia. During his 30 months of service, Cal worked actively with Rotary clubs, district leadership and Peace Corps to collaborate on a variety of community beautification, learning, and community service projects. The successes of these projects led to Rotary and Peace Corps in Macedonia agreeing to a partnership which scaled Cal's work to a national level. Here he shares his story with the Lamorinda Rotary Club of Lafayette, CA. (Partnership details begin at the 10 minute mark.)

We are excited to share that PFP has been nominated for the 2020 Loret Miller Ruppe Award for Outstanding Community Service. Nominated by PFP member, Tony Agnello, the award would raise awareness of the Rotary/Peace Corps partnership and highlight the global connections that PFP is making. 

Named for the widely admired 10th Director of the Peace Corps, the annual Loret Miller Ruppe Award is presented by National Peace Corps Association to outstanding affiliate groups for projects that promote the Third Goal of Peace Corps or continue to serve host countries, build group spirit and cooperation, and promote service.
Copyright © 2020

Partnering for Peace: Friends of Peace Corps and Rotary

, All rights reserved.
 

This email was sent by:
Partnering for Peace: Friends of Peace Corps and Rotary
7970 South Vincennes Way
Centennial , CO, 80112

 

You have received this email because you are a member or existing contact of Partnering for Peace: Friends of Peace Corps and Rotary, a membership organization powered by SilkStart. update notification preferences unsubscribe from this list