In this issue: 1) Partnership in Liberia 2) Connecting Rotary and ePCVs 3) Step-by-Step: Start a District Committee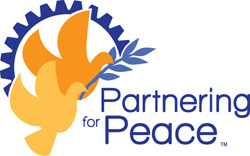 Partnership Spotlight: Liberia
Rotary International and the US Peace Corps Magnify the Power of Community Projects

Written by Vana Prewitt
In 1985, Vana Prewitt served as a US Peace Corps Volunteer in Liberia, where she first experienced the power of collaboration between the US Peace Corps and Rotary International. From Liberia, to the USA, to St. Lucia, Vana's experiences as a Peace Corps Volunteer and Rotarian have crossed borders and helped shape community service projects. It truly takes a village to move mountains, and with many shared common goals, a partnership between Rotary and Peace Corps can only expand the possibilities! In this article, Vana shares her story working on vaccination campaigns and with youth.
Step-by-Step: Start an Alliance Committee in Your District

Photo by Patrick Fore on Unsplash
Tool kit by Charles Hunt

The most effective way to engage your fellow Rotarians in the Peace Corps-Rotary partnership is to create a Rotary District Peace Corps Alliance Committee. Wondering where to start? Partnering for Peace has you covered! Take a look at the step-by-step process and resources in our District Committee Toolkit.
Copyright © 2020

Partnering for Peace: Friends of Peace Corps and Rotary

, All rights reserved.
 

This email was sent by:
Partnering for Peace: Friends of Peace Corps and Rotary
7970 South Vincennes Way
Centennial , CO, 80112

 

You have received this email because you are a member or existing contact of Partnering for Peace: Friends of Peace Corps and Rotary, a membership organization powered by SilkStart. update notification preferences unsubscribe from this list