In this issue: 1) NPCA Day of Advocacy on Capitol Hill; 2) Save the date: Rotary-Peace Corps Week 2023; 3) Help PFP at  Rotary International Convention
Dear Partnering for Peace Members, 
I am happy to update you on PFP activities over the past month and share with you our upcoming events:
National Peace Corps Association (NPCA)
Day of Advocacy on Capitol Hill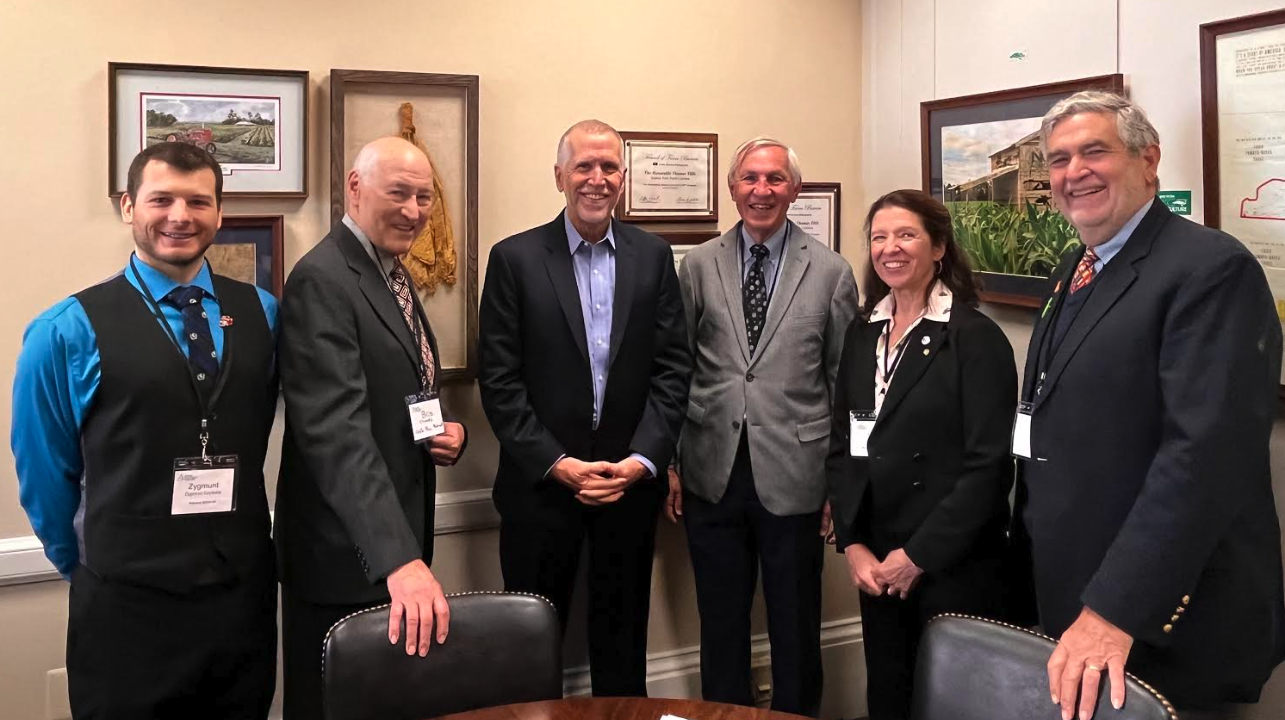 Several Partnering for Peace members participated in the NPCA Day of Advocacy on Capitol Hill on March 9. We joined over 100 RPCVs and other members of the Peace Corps community to contact EVERY member of Congress by meeting with them, their staff, or leaving info packets. In my comments at meetings, I stressed that RPCVs are active citizens in the members' states or districts. We shared that 86% of RPCVs volunteer in their communities -- three times more frequently than the average American, according to a recent NPCA survey report. I was proud to display my Rotary pin along with Peace Corps and PFP pins. I talked about the synergy and opportunities of service between Rotary clubs and RPCVs here in the US and now with PCVs back in our Peace Corps countries. 
 
Rotary-Peace Corps Week 2023
SAVE THE DATE September 18-22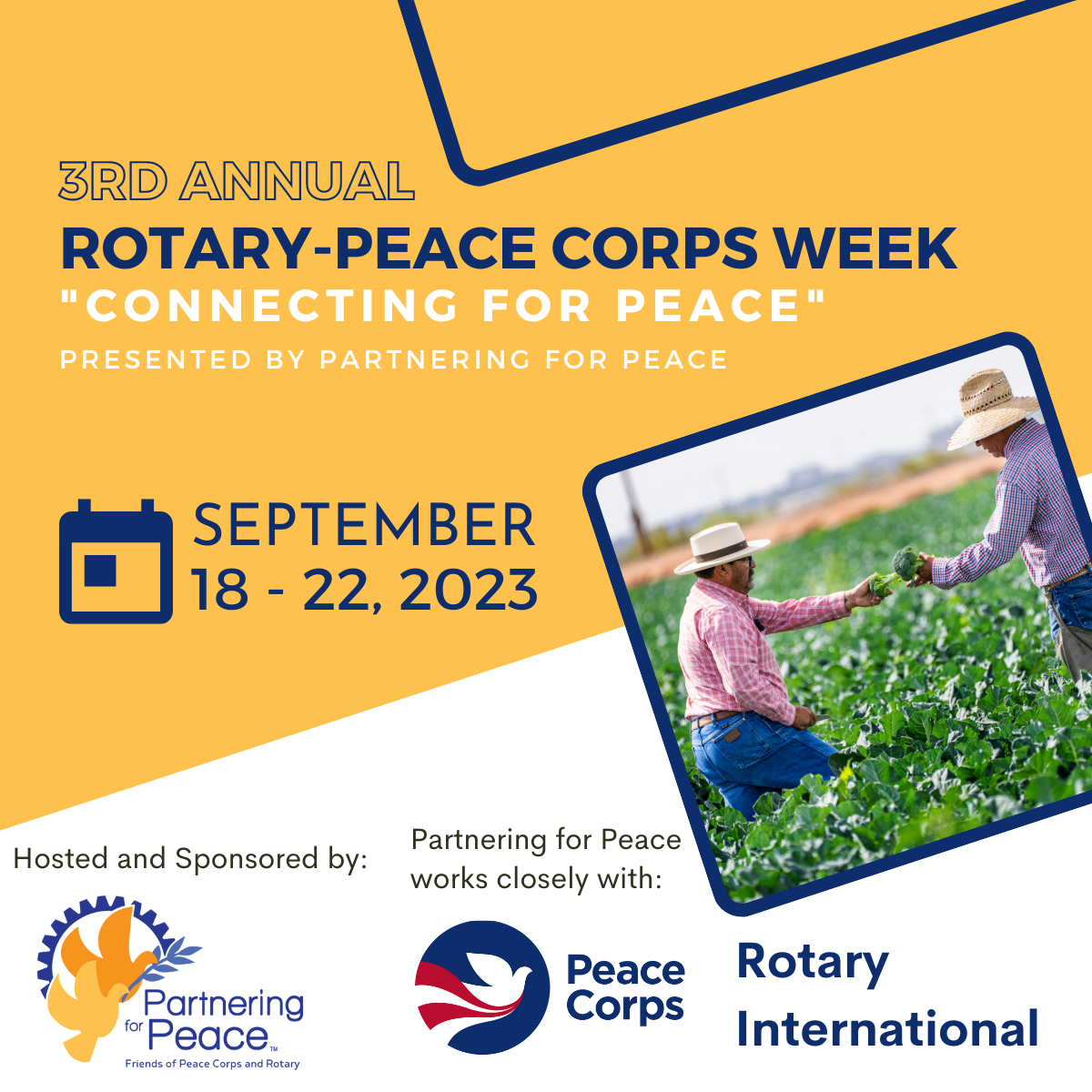 I am pleased to announce that Rotary - Peace Corps Week 2023, hosted by PFP, will be September 18-22. This year's theme is "Connecting for Peace: Demonstrating the value of the Peace Corps and Rotary Communities' partnership with ideas, examples, and testimonies." The event will celebrate the Rotary - Peace Corps connections that Partnering for Peace members have made and highlight examples of connections with:
Rotary Districts
PC Countries
Successful Joint Projects
NPCA Cause-based Affiliate Groups and Rotary Action Groups
Throughout the week, you will be able to join and participate in webinars in your areas of interest. We also challenge you to make connections of your own. Reach out to a Rotary or Rotaract club, RPCV community, or RPCV Affiliate Group in your neighborhood, or in your country. Find common ground to do common good together. There will be more to come, so mark your calendar: September 18-22, 2023!
 
Help Needed: PFP Booth at
Rotary International Convention in Melbourne, Australia
We are happy to announce we have secured a booth at the Rotary International Convention in Melbourne, Australia, May 27-31, 2023. The booth will be next to the Peace Park section in the House of Friendship -- a great location, next to the booths of many other organizations dedicated to peace. If you will be attending the convention, support Partnering for Peace by helping to staff the booth. Steve Werner is coordinating our presence. If you can help, email steve@stevewernerconsulting.com or
call +1(303)809-8986.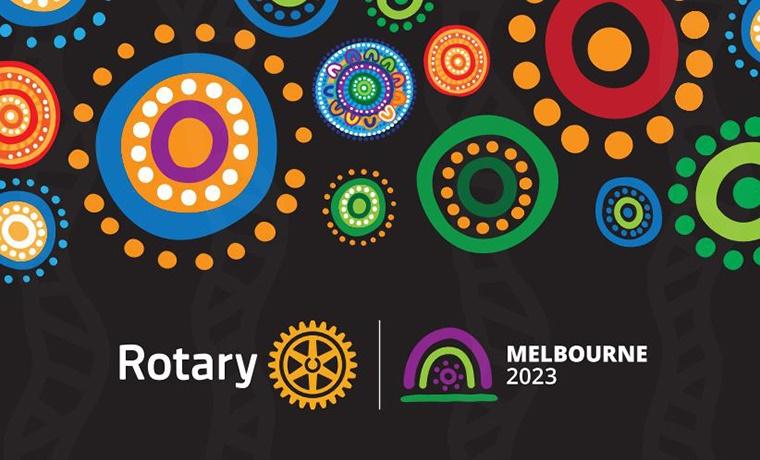 Yours in service, 
Kim Dixon
President
Partnering for Peace: Friends of Peace Corps and Rotary

WRITE about your joint project, either current or past. Your experiences help others develop and pursue their own ideas. Tell us about your project.

TELL US how we can help you support our mission. Email info@partneringforpeace.org.
Copyright © 2023

Partnering for Peace: Friends of Peace Corps and Rotary

, All rights reserved.
 

This email was sent by:
Partnering for Peace: Friends of Peace Corps and Rotary
7990 East Phillips Circle
Centennial , CO, United States, 80112

 

You have received this email because you are a member or existing contact of Partnering for Peace: Friends of Peace Corps and Rotary, a membership organization powered by SilkStart. update notification preferences unsubscribe from this list