Visit PFP at Rotary International Convention and Rotaract Pre-Convention Conference
Ready to learn more about the partnership and help spread the word? Partnering for Peace: Friends of Peace Corps and Rotary (PFP) is offering opportunities for both at next week's RI Convention:
Can you support PFP at the Peace Corps Booth in the House of Friendship during the convention? We are looking for volunteers who would like to help staff the booth and promote the partnership. No experience necessary, training and materials will be provided. Contact Steve Werner at steve@stevewernerconsulting.com if you're able to support. (Either way, please visit us in Booth 1009)
Join for a PFP special session:
June 3: Rotary Peace Fellows & Returned Peace Corps Volunteer panel
June 4: "Serve to Bring Peace" Rotaract Breakout Session
June 6: "How Rotary Clubs, Peace Corps Volunteers, and Returned Volunteers Can Work Together to Better Serve People of the World"
June 6: Happy Hour/Social Time 
More details for each activity can be found here.
Rotary-Peace Corps Week 2022
Mark your calendar for September 19-25, 2022 to participate in the second annual Rotary-Peace Corps Week. Sponsored by Partnering for Peace, this year's theme is "Peacebuilding on the Ground" and will feature discussions about the partnership between Rotary and Peace Corps lends itself towards peacebuilding. Read more about this year's plans and event organizer, Erica Brouillette and check out last year's interview with Carol Spahn, Director of Peace Corps, and John Hewko, CEO and General Secretary of Rotary International.
PFP Booths at RI District Conferences
With District Conferences underway, PFP members have been hosting their own booths to promote the partnership to their district. If you've been looking for a way to promote the partnership your upcoming Rotary or Peace Corps event can be it! PFP has a library of printable materials for your use.
Questions? Email info@partneringforpeace.org
---
Opportunities to Support Disaster Response for Ukrainian People
Rotary members and Returned Peace Corps Volunteers have been working together to support disaster response and the displacement of people in Ukraine. Here are two ways to support:
RPCVs Support Global Grant to Provide Humanitarian Aid in Ukraine
RPCVs who served in the Ukraine, in collaboration with the Las Vegas WON Rotary Club have developed a Global Grant to support the immediate, and basic human needs in Ukraine. Donations are still being accepted and will go to four Ukrainian NGOs were where PCVs worked when they served in Ukraine. RPCVs were involved with vetting the organizations and how they can work with Rotary clubs in Ukraine and other countries.

The objectives of this project are to:
- Support the immediate humanitarian needs of IDPs in at least four local entities in 2022.
- Empower local communities to determine the most helpful and efficient use of humanitarian aid funding based on their own unique communities' needs assessment.
- Develop sustainable partnerships with the grantee communities, their Rotaractor, and Rotary International for ongoing evaluation and assessment of the impact of grant investment.
The beneficiaries of this project will be at least four Ukrainian communities, at least four local NGOs, and thousands of IDPs. Learn more here.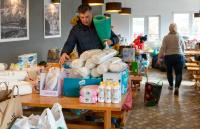 Disaster Response Grants Available for Helping Ukrainian Refugees Worldwide
Is your Peace Corps country supporting Ukrainian refugees? Encourage a local Rotary Club to support,
Rotary Districts have the opportunity to apply for Disaster Response grants funded through the Disaster Response Fund of the Rotary Foundation. Grants are available for up to $25,000 per project.
If you have identified a need, we can help you connect the dots. Please email the following information to Ellen Young, member of Partnering For Peace, at ellenyoung60045@gmail.com 
Your Name
City and State where you live in currently
Country of Service - years served - town/village you served in 
Where have you identified a need to support Ukraine or Ukrainian refugees? City/Country?
In what way could they use funding from Rotary?  (Examples of other approved grants include: To purchase food, medicine, hygiene supplies and equipment for hospitals, To provide shelter, food, basic needs, medical supplies, clothes, toys and school materials for the children, counseling and support to Ukrainian refugees.)
Amount of funding requested
Copyright © 2022

Partnering for Peace: Friends of Peace Corps and Rotary

, All rights reserved.
 

This email was sent by:
Partnering for Peace: Friends of Peace Corps and Rotary
7970 South Vincennes Way
Centennial , CO, United States, 80112

 

You have received this email because you are a member or existing contact of Partnering for Peace: Friends of Peace Corps and Rotary, a membership organization powered by SilkStart. update notification preferences unsubscribe from this list