In this issue: 1) Rotarians and RPCVs Collaborate in North Carolina; 2) Mongolia Baseball Project - donate through 1 December; 3) Save the Date: March 2022 Advocacy Week; 4) Positions Opening Soon for the PFP Board - Join us!; 5) Save the Date! Saturday, 4 December is PFP's Annual Membership Meeting

Does this email not look right? Try viewing this email in a browser.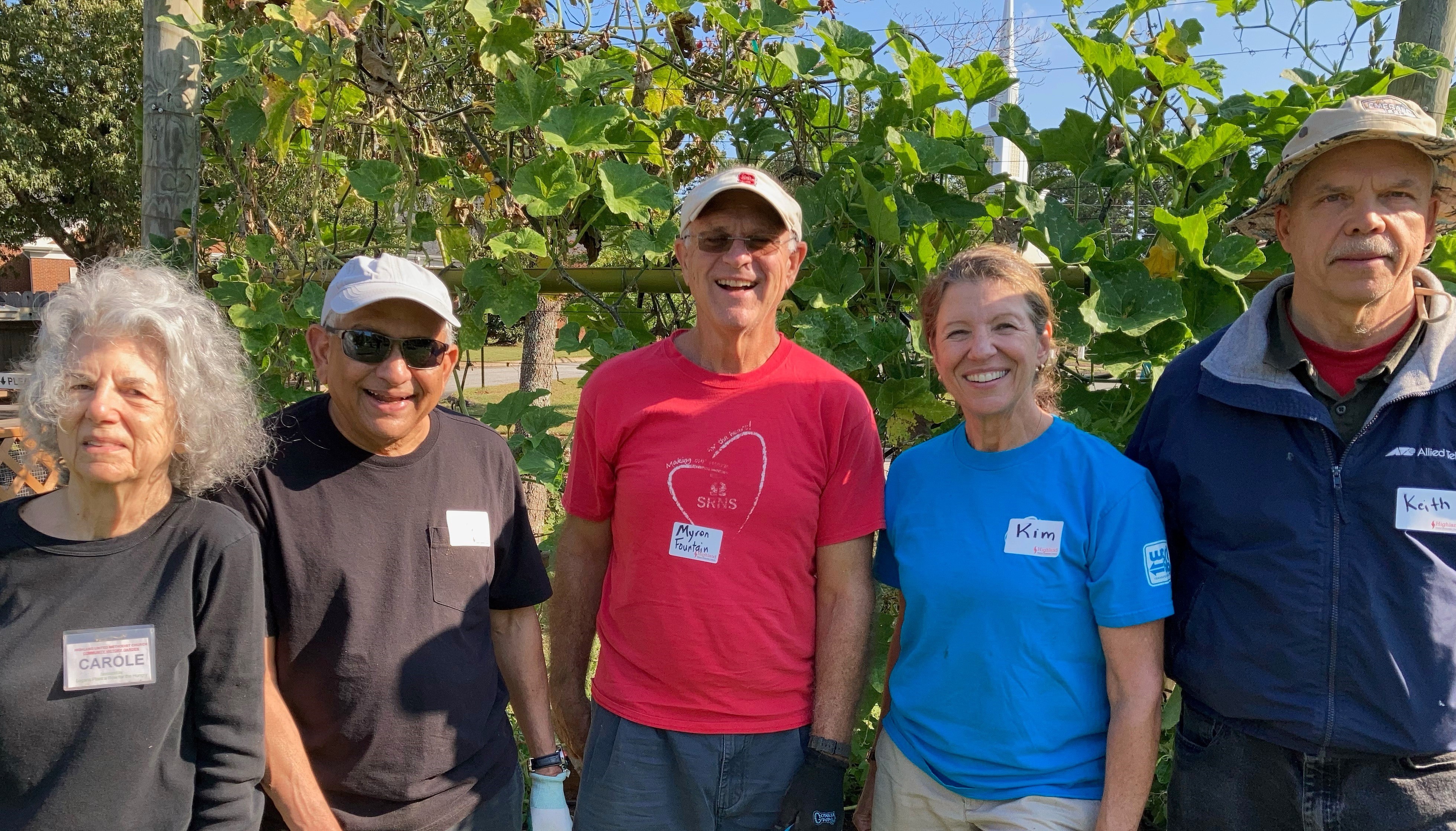 Rotarians and RPCVs Collaborate in North Carolina
by Kim Dixon, PFP President
Rotary District 7710 Midtown Raleigh Rotary club joined forces with the North Carolina Peace Corps Association on 2 October, for a joint community project at Highland United Methodist Church's Victory Community Garden.
Cultivated by the Highland Social Justice Group, the Victory Garden donates over 2,000 pounds of fresh produce to the Interfaith Food Shuttle each year and educates volunteers in sustainable gardening and locavore practices. Spurred by their common interests, the Rotary and returned Peace Corps Volunteers (RPCV) joined hands to harvest sweet potatoes, and greens; then prepared seed beds for the winter planting.  According to Cris Crissman, garden committee member, "These two powerful groups are forming a partnership to accomplish even more than they can singularly. We are fortunate to receive some of the benefits."
September's First Annual Rotary-Peace Corps week raised local Rotary, RPCV, and community awareness about the formal agreement between Rotary International and Peace Corps.
Partnering For Peace, the week's sponsor reported that the enthusiastic support of Rotarians and RPCV's attracted over 400 registrations for webinars,  and one hundred (and counting) presentations by RPCVs and Rotary Clubs both in the United States and around the world in addition to spurring on joint projects.  Partnering For Peace President, Kim Dixon, declared the week's activities "a huge success as Rotarians and RPCV's drew upon their common missions to advance world understanding and peace through service."
Ms. Dixon was pleased to note that, as a result of the week's events, interest and awareness in Rotary and Peace Corps grew and  Partnering For Peace  membership more than doubled. She summarized by saying "these relationships will lead to a substantial increase in the synergy between Rotary, and the Peace Corps communities and projects around the world. She encouraged the free membership of Partnering for Peace as a means to stay abreast of activities and ideas for ongoing synergy between the two organizations.
Photo: Carole Meshot (Midtown Raleigh Rotary) , Ram Ramabhadran (Midtown Raleigh Rotary), Myron Fountain (RPCV), Kim Dixon (RPCV and Midtown Raleigh Rotary) and Keith Kollmann (RPCV), harvesting at HUMC Victory Garden
---
Mongolia Baseball Project - donate through 1 December
Friends of Mongolia, an RPCV group, is partnering with the Yokosuka Council on Asia-Pacific Studies (YCAPS), MONJISHAND, and the Allentown (PA) West Rotary Club (AWRC) to share a love for baseball with our close friends, the Mongolians! And we are hoping all of you can help as well.
If you would like to help us cover the costs of shipping or the purchase of new equipment, please consider donating at www.allentownwestrotary.org. Click "donate" and select the Mongolia Baseball Project. We will be accepting monetary donations through 1 December 2021.
PFP thanks Board Member and former Country Director for Mongolia, Mark Zober, for sharing this opportunity for us to collaborate.
Questions? Contact us at info@partneringforpeace.org
---
Save the Date: March 2022 Advocacy Week
The first week of March 2022 is advocacy week for the National Peace Corps Association.
In keeping with the spirit in which the Peace Corps was founded, RPCV'S are encouraged to visit with their congressional representative in person or by mail, with the purpose to encourage support for the agency.  If you know of any legislators that are Rotarians you are encouraged to let them know about the Peace Corps-Rotary partnership, and the many good community service projects and other works that have evolved from this relationship.
Ideas for talking points will be available closer to the date. Please let us know if you are planning to participate!
---
Positions Opening Soon for the PFP Board - Join us!
Are you interested in serving on the PFP Board or becoming more involved in a PFP committee? We will soon be interviewing prospective candidates. Please email Dick Pyle, chair of the Governance committee, with your statement of interest at rpyle1957@gmail.com.  We love passionate participants that understand our partnership opportunities. 
---
Volunteer Positions with PFP
Do you have one or two hours a week to volunteer? We are looking for volunteers to help write content, post to social media, and develop content.
Website Management: PFP needs help with website content and management. Do you know of any RPCVs who might be interested?
Photography: We are seeking photos to use for our gallery, on social media, and in our newsletters.
Let us know if you're interested.
---
Save the Date! Saturday, 4 December is PFP's Annual Membership Meeting.
Suggestions for content and/or questions are encouraged. Please contact PFP President Kim Dixon at info@partneringforpeace.org with ANNUAL MEETING IDEA in the subject line.
Copyright © 2021

Partnering for Peace: Friends of Peace Corps and Rotary

, All rights reserved.
 

This email was sent by:
Partnering for Peace: Friends of Peace Corps and Rotary
7970 South Vincennes Way
Centennial , CO, 80112

 

You have received this email because you are a member or existing contact of Partnering for Peace: Friends of Peace Corps and Rotary, a membership organization powered by SilkStart. update notification preferences unsubscribe from this list