PFP had a busy RI Convention in June 2022 hosting breakouts and special sessions promoting the partnership, and supporting Peace Corps in its booth in the House of Friendship. 
June 2022 President's Update:
Partnership Exposure at RI Convention 2022
Dear Valued,
Rotary International Convention 2022 has come and gone and it was a busy event for Partnering for Peace (PFP) board and members. I've had the privilege of attending many Conventions and they are all special in one way or another. This year's Convention provided PFP and the Rotary-Peace Corps partnership great exposure.
The commitment to the partnership at the agency level was shown as Peace Corps Response (PCR) hosted a booth in the House of Friendship. Peace Corps recruiters shared PCR and PCV opportunities of service with Rotarians and helped promote PFP which resulted in over 36 new members. We also had 10 PFP members and friends share their time by personning the booth alongside Peace Corps recruiters. Peace Corps staff were very pleased with the reception they received and how many Rotarians expressed interest in serving with Peace Corps. The visibility helps build the overall partnership between the agencies as well as awareness of PFP and the number of partnership projects that have taken place.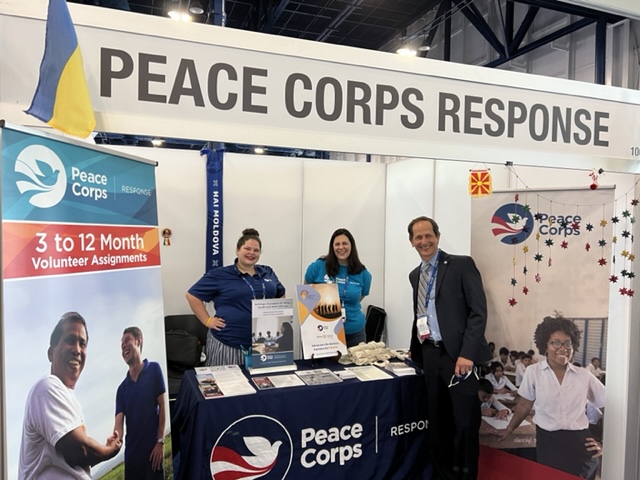 During the Convention, PFP also hosted three well-attended special sessions highlighting the partnership: 
During the Rotaract Pre-Convention Conference, we hosted a session focused on ways that Rotaract members, Peace Corps country offices and RPCV groups can work together and some of the successful projects that have already taken place. Two PFP members, Shannon Carter and Terrance Stevenson (also both RI Peace Fellow alumni) shared their first hand experiences to around 40 people.
During the Rotary International President's Special Conference on Peace and Conflict Resolution, our President, Kim Dixon, hosted ~65 people in our session focused on successful Peace and Conflict Resolution projects that have taken place or are being planned as part of the Rotary/Peace Corps Week. A highlight of this breakout session was having RI Board Member and long-time Peace Advocate, Peter Kyle, share his perspective on the partnership and how it is good for all involved. Peter has been a strong supporter of PFP and the partnership and we are grateful that he took time from a hectic schedule to be with us.
We had almost 70 people join us for a special briefing featuring endorsements and testimonials about the value of the partnership from RI Staff Liaison, Carrie Golden, and Peace Corps Staff Liaison, Ted Adams. Carrie and Ted work closely with PFP to promote the partnership and commended PFP for the valuable collaboration. We also heard overviews of successful projects between Rotary clubs, PCVs and RPCV groups. Special focus was given to the value that RPCVs bring to the Rotary Fellowship program as their Peace Corps service helps them engage in the program on a different level. One example is how Shannon Carter, Peace Fellow and RPCV from Ukraine, has been a leader in bringing RPCVs from Ukraine and Rotary clubs together to provide support to Ukrainian citizens and refugees.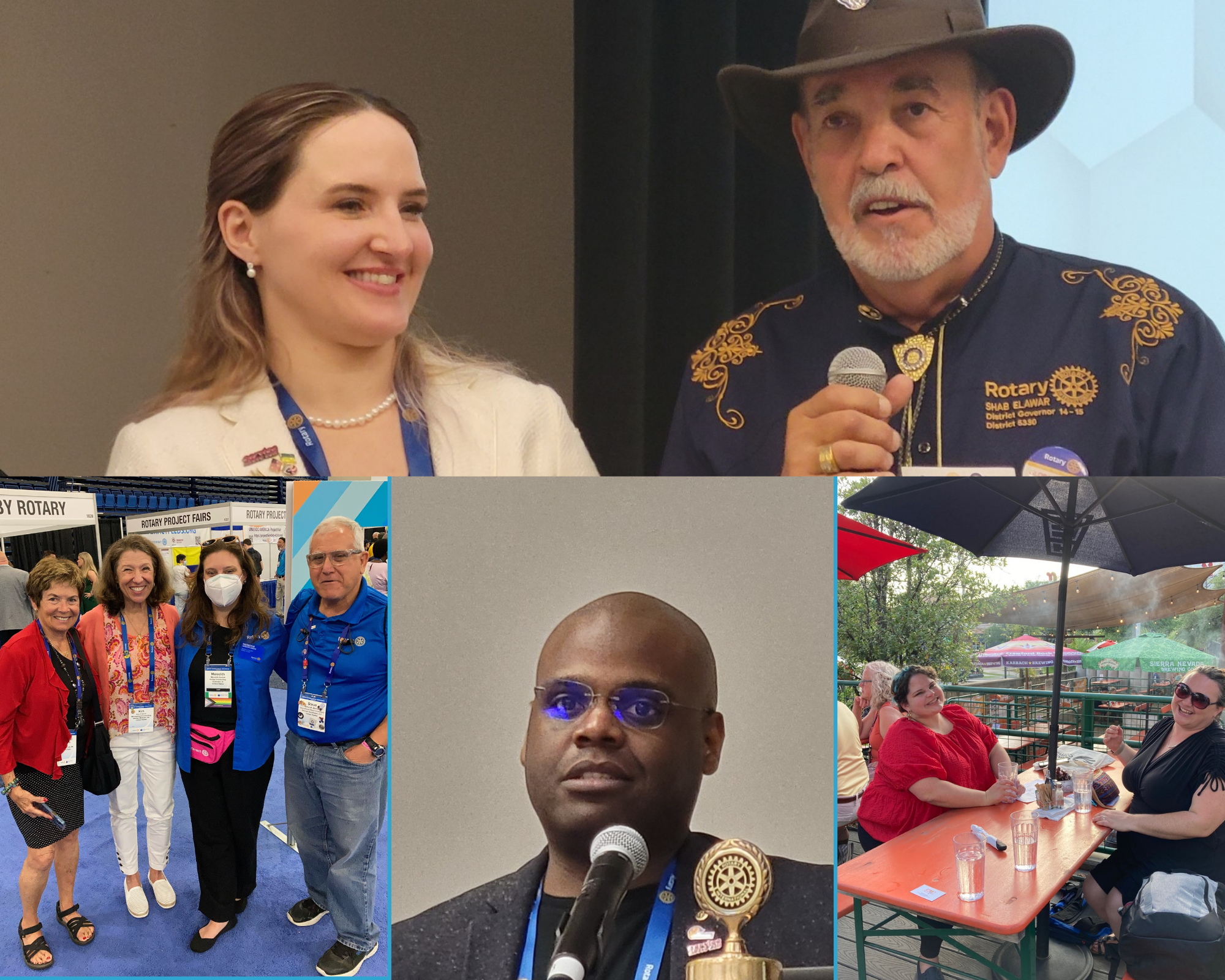 Not wanting it to seem like we are all work and no play, PFP closed out its Convention with a special reception/social hour. The less formal environment allowed 80 attendees the chance to debrief from the breakout sessions, discuss ways to promote the partnership, and plan joint projects. PFP board member Ed Pettitt helped organize the reception, which achieved the goal of bringing everyone together informally to meet and learn from one another.
As the founding president of Partnering for Peace (PFP), it is gratifying to see how the partnership between Rotary and Peace Corps has continued to grow and be embraced by both agencies, their staff, volunteers and members, and by PFP members. A new generation of leaders are getting involved and the rationale and benefits of the partnership show up in their innovative and impactful projects and programs. My hope is that everyone receiving this update will take at least one action to grow the partnership in 2022: 
Meet with your Rotary District Governor and explain the partnership 

Make a presentation at your District Conference and/or Rotary club

Organize a PFP table at your District Conference

Write an article for your District newsletter

Make a presentation at your RPCV group meeting or write an article for your RPCV group newsletter

Organize a joint Happy Hour or Service Project between Rotary clubs in your area and the RPCV group near you. 
Thanks for considering doing one or more of these activities. PFP appreciates all of our members' support, participation, and enthusiasm for how the partnership can improve the lives of people we care about locally and globally. Next up for our team is the second annual Rotary-Peace Corps Week, September 19-23, 2022. Please contact President Kim Dixon at kimydixon92@gmail.com, if you can help in any way or have questions.
Steve Werner
Founding President and Immediate Past President of PFP
RPCV, Returned Peace Corps Response Volunteer, and Rotarian
Copyright © 2022

Partnering for Peace: Friends of Peace Corps and Rotary

, All rights reserved.
 

This email was sent by:
Partnering for Peace: Friends of Peace Corps and Rotary
7990 East Phillips Circle
Centennial , CO, United States, 80112

 

You have received this email because you are a member or existing contact of Partnering for Peace: Friends of Peace Corps and Rotary, a membership organization powered by SilkStart. update notification preferences unsubscribe from this list