by Mark Walker, outgoing PFP Board Member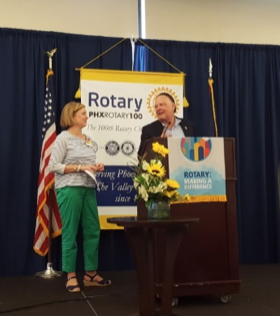 In June 2021, I stepped down from the PFP Board after five memorable years of service, and PFP Membership Co-Chair, Andy Lenec, replaced me. Andy served the Peace Corp in Ukraine and developed a partnership between the Peace Corps and Rotary around the Rotary Youth Leadership Awards program (RYLA). Upon returning home, he joined the Rotary Club of Denver LoDo. I learned about Andy's role in starting RYLA while serving as a  PCV in Ukraine when we did a Zoom presentation together for the Rotary Club of Sarasota (Florida). Andy recommended to PFP to develop a Rotary/Peace Corps Week from September 20 – 26th, making him a logical candidate to join the PFP Board.
I was recruited to the Board by Immediate Past President, Steve Werner, in 2016.  We'd both worked for CARE International, were Rotarians in the Denver area and had many friends in common. I attended the Peace Corps Connect Conferences in Denver and Austin, which included strategic planning and board events and worked with fellow Rotarians Hal Rifken and Ross Feezer to develop five promotional videos, of which my favorite is a literacy program in the Dominican Republic https://vimeo.com/374302025. Several of my articles on Partnering for Peace were published in Rotary Voices and Rotary Service in Action, in which I encouraged other RPCVs to share their stories of why they joined Rotary - which they did. One of my articles, "How the Peace Corps and Rotary led me to a life of international service," pretty much tells the story of Service Above Self in Rotary, which started in 1990 in Bogota, Colombia. How and why I wrote my book, Different Latitudes: My Life in the Peace Corps and Beyond, can be found on an interview by fellow Board member Bill Miller on his Global Connections TV program http://millionmilewalker.com/.
As the Membership Chair, our team developed such resources as the Membership Tool Kit and promoted the use of our videos for presentations to Rotary and Returned Peace Corps group. https://docs.google.com/document/d/1aNhV4dTAsvVVfjx3j5mxbhWdyPmuaSg7cE2LHbt36P0/edit 
Our key innovation was to move into a no-fee membership model, which will continue to increase our membership and impact among Rotarians and Peace Corps Volunteers. 
Going forward, I'll focus my attention on my writing, which includes several columns and blogs. I'm actively searching for a publisher for my next book, The Moritz Thomsen Reader: His Books, His Letters and His Legacy Told by the Writers Who Knew Him Best.  And, together with fellow RPCV and award-winning cinematographer, Hal Rifken, we're producing a documentary on immigration and human rights challenges amongst the Maya population of Guatemala - we have a new website and team members. I'll continue as an active member of Partnering for Peace and look forward to new opportunities to strengthen this most impressive partnership of service between Rotary and the Peace Corps https://www.troubleinthehighlands.com/.