---
Welcome to Partnering for Peace
Partnering for Peace (PFP) is an all-volunteer nonprofit organization with a goal of fostering partnerships between Rotary International and the United States Peace Corps. You will find examples of Rotary-Peace Corps projects and many ideas for ways to increase our collective impact globally.
A formal partnership was first established in 2015 and was recently renewed. This agreement was inspired by a group of Returned Peace Corps Volunteer (RPCV) Rotarians in District 5450. The heart of the agreement is that Peace Corps and Rotary have almost identical goals and create greater good working side by side.
---
---
Latest Updates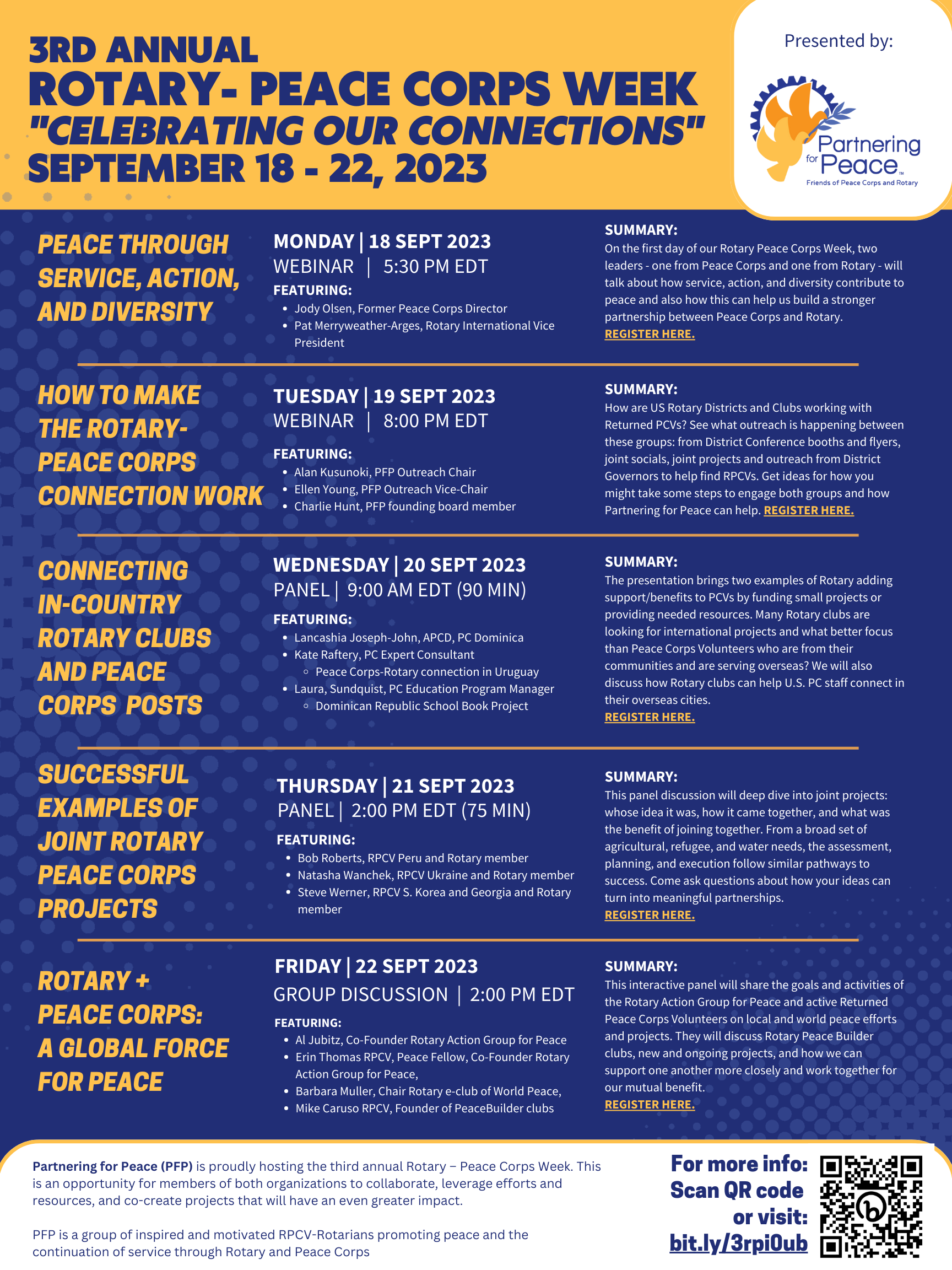 1) Celebrate the Third Annual Rotary Peace Corps Week
2) Ethiopia in 1961: A Peace Corps Odyssey
3) Pioneering Peace and Collaboration
4) Join NPCA for the 2023 Peace Corps Connect Conference
Missed a recent event? 
Review the replays and resources at your convenience:
PFP's Annual Meeting: December 3, 2022 
  Watch the recording for:
1) Updates from Peace Corps and volunteer return to service
2) PFP highlights from 2022
3) PFP focuses for 2023
4) PFP board updates for 2023 and. how you can get involved.

Or, review the minutes from the meeting here.
---
Rotary Peace Corps Week Recording and Resources:
Monday: 
Peace Building on the Ground: History of Peace within Rotary and Peace Corps
Look for resources in the video description
Wednesday: 
Strategies for Developing a Rotary-Peace Corps Partnership Project
Ukrainian Refugees Sustained by a Rotary Partnership for Peace
Check out the impact that Rotary Disaster Response Grants are having in Ukraine! Grants are available to ANY district worldwide for $25,000 to support Ukraine or Ukrainian refugees.  See more here.
We Need Your Help With District Conferences
You can help us spread the word about Partnering for Peace at your Rotary District Conference?  Read more here on how you can help.  It has all the resources that you'll need for a success for table in the House of Friendship.
---
Notes from the Field
Responding to the War and Humanitarian Crisis in Ukraine
On February 24th, 2022, Vladimir Putin launched a full-scale military assault on Ukraine, including attacks on civilians. Many of our friends and family members have fled; many others are staying and fighting to defend their communities.
Ukraine RPCVs have rapidly mobilized to assist our Ukrainian friends, family members, colleagues, and communities. We are advocating, sending donations of money and supplies, engaging mass media, and directly assisting friends in need of transportation, housing, and money to survive. 
PFP Peace Policy Document
PFP and Peace Initiatives:  Commitments and Limits
During its initial years Partnering for Peace (PFP) has had considerable success in its core mission of helping forge and then supporting the partnership between Peace Corps and Rotary International.  At the same time PFP as an organization has steadily grown, from a small group of founders to a global membership of nearly 150 Rotarian RPCVs.  It has formally established itself as 501 (c) 4 organization with formal governance, including a board of directors, bylaws and....(read more)
---
Need Tools to Promote the Partnership
We've got you covered.  See our District/Club toolbox .  Strategies, brochures, videos, hand outs, documents.
Here are quick links to hot topics
Our Sponsors