Become a Member
Join Partnering for Peace (P4P) to strengthen the relationship between Rotary and Peace Cops as we towards spreading and sustaining peace across the globe. P4P is an affiliate group of the National Peace Corps Association (NPCA).
MEMBERSHIP
Membership is now FREE. Click on JOIN GROUP at the top of this page. As a member, you can help build partnerships between Peace Corps and members of Rotary and Rotaract.
  We have two types of membership: Individual and Group. 
      Individual membership is FREE. Group membership dues for Rotary Clubs are a $50 annual fee. 
Benefits:
Quarterly e-newsletter, which highlights news and recent collaborations between Peace Corps and Rotary International.

Access to the PFP list of Rotary Clubs and RPCV groups committed to working together.

Information on joint projects and key contacts if you want to become part of or replicate one of these programs.

Access to the PFP website and Facebook page to showcase joint projects and share experiences.

As a member of NPCA and P4P, which is one of 150+ affiliate groups, you become part of a powerful international network for change.

A Membership Tool Kit, which will include resources, including two videos to promote PFP.

Group members can have their group's logo displayed on "Our Partners" page.
Ten Tips for PeaceBuilding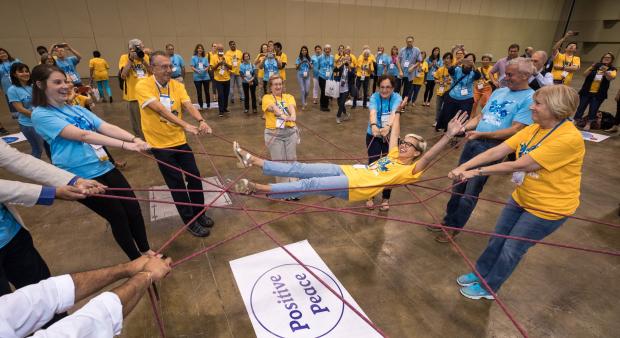 Get involved with Rotary's peacebuilding programs and activities in a number of ways through any of these options
Read on for more ideas about how you can get involved with Rotary's
peacebuilding programs and activities.
>> Invite your club members to join the Rotary Action Group for Peace, which supports Rotarians engaged in peacebuilding projects worldwide. Encourage your club to join the group's Peacebuilder Club program, which promotes Positive Peace both locally and globally. Watch the group's video presentations and hear from peacebuilders throughout the Rotary family. Other Rotary Action Groups are also working toward creating a more peaceful world. Consider joining other Rotary Action Groups such as Rotary Action Group Against Slavery or the Rotary Action Group for Family Safety.
>> Rotary has always had strong relationships with major international organizations, including the United Nations. Today, we continue to strengthen those connections through the Rotary Representative Network.If your peacebuilding project aligns with a particular UN agency, consider reaching out to the Rotary Representative at that agency and invite them to give an online presentation to your club. To get in contact with a Representative, contact the Rotary Support Center.
>> More than 70 million people worldwide are displaced because of conflict, violence, or persecution. In collaboration with UNHCR, Rotary has created a toolkit [forthcoming] that offers Rotarians suggestions about how to engage with and advocate for refugee communities. Learning more about the global refugee crisis and the experiences of refugees in our communities can promote greater peace through understanding.