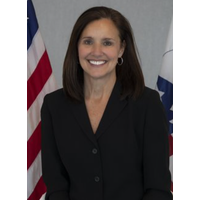 CAROL SPAHN, ACTING PEACE CORPS DIRECTOR, SUPPORTS PARTNERING FOR PEACE: FRIENDS OF PEACE CORPS AND ROTARY INTERNATIONAL
Carol Spahn, Acting Director of the U.S. Peace Corps, recently met with the executive committee of Partnering for Peace (PFP): Friends of Peace Corps and Rotary International. Spahn addressed the current Memorandum of Understanding (MOU) between the two organizations, and discussed additional ways PFP and Rotary can continue its support of the Peace Corps and of Peace Corps Volunteers (PCVs) abroad, as they begin to return to the field.
Kim Dixon, president of PFP stated, "Carol was very open to the opportunities that the Rotary/Peace Corps partnership can offer; from local integration of staff, support of PCVs in the field, projects supported by Returned PCVs, and opportunities for PCVs to collaborate with Rotary in their primary or secondary projects, it all adds up to a win-win for Peace Corps."
Peace Corps/Rotary Week is being planned for later this year. Steve Werner, founding and immediate past president of PFP, provided an overview of the plan with examples of how the week will galvanize attention of the joint goals and projects of Peace Corps and Rotary in the field to a continuation of service by RPCVs as members or friends of Rotary clubs back home. Rotarians are also good candidates for Peace Corps assignments, and the week-long event will allow Rotarians to learn more about what PCVs do and how they can work together.
Rotary International currently boasts over 1.2 million members and 35,000 Rotary clubs worldwide. Joint projects between the two organizations have been documented to the tune of over $700,000 USD, and the Partnership continues to collect stories of additional projects. The missions of Rotary and PC are almost identical, and examples of collaboration include support of English libraries; healthcare; education; to water, sanitation, and hygiene (WASH) projects. The relationship between Rotarians and Peace Corps is mutually beneficial, and local communities reap the rewards.
There are numerous ways for PCVs and Rotary to further the partnership in the field, and back home, which PFP can help identify. Kim shared her own recent Peace Corps experience of gaining support from a Tbilisi, Georgia Rotary club that helped with transportation, and printing of health pamphlets for the ethnic minority in her region. PCVs responded by helping with Rotary's rural health fair. Another example of recent partnership is a Give-a-Book program in Costa Rica and several other countries, where PCVs identified the needs and Rotarians helped collect, ship, catalog, and set up libraries in PCVs schools. These are just a few of many examples that highlight the collaboration between the two organizations. Upon completion of service, PCVs can continue their partnership with Rotary upon return to the US.
PFP is hoping to find current Rotarians in the RPCV ranks. Please let us know by signing in and gaining more information at www.partneringforpeace.com,
---