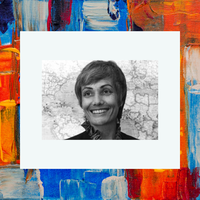 It's our honor to share that Partnering for Peace (PFP), RPCV Alliance for Ukraine (RPCV-AUA) and Friends of Moldova (FoM) were jointly awarded the National Peace Corps Association (NPCA) Loret Miller Ruppe Award for their work in supporting Ukrainian Refugees. It was announced on Saturday, September 24th, at the NPCA General Membership Meeting attended by over 100 members. Voting was held August 27th, by attendees of 180 Affiliate Group leaders, after reviewing the requested video showcasing our service and commitment. View the short video here. "It is an opportunity to highlight the good that can come out of partnering with like-minded people like the PC and Rotary communities, in the US and around the world," stated Kim Dixon, president of Partnering for Peace.
The trio appreciates the nomination by Anthony Agnello, President of Friends of Afghanistan, Inc, and Barbara Busch, Chairperson of Peace Corps Community for Refugees, also strong partners for refugees. The nomination titled ""Promoting World Peace and Friendship in Times of War: Partnering for Peace, RPCV Alliance for Ukraine, and Friends of Moldova Mobilize Humanitarian Aid in Response to the War in Ukraine" states that our three organizations share the goal of encouraging people to keep living the values of service, peace, and international friendship. As RPCV-AUA and FoM respond to the greatest crisis in Europe since WWII, this collaboration with PFP and Rotary supports vital humanitarian aid and one of the largest RPCV mobilizations in history.
PFP was included on this nomination for the contributions of many PFP members and is highlighted here by the work of its President, Kim Dixon, who helped organize Friends of Moldova, Rotary District 7710, and the Moldova Rotary Club of Chisinau Cosmopolitan to apply for a Disaster Response Grant. Read about that project here.
How can you support these efforts?
RPCV-AUA is doing its final first aid supply push – (10/9 deadline) .

As Ukraine and Moldova expect the most difficult winter in their history of independence (1991) FoM has several initiatives underway here.

Become a member of PFP for free, and connect YOUR Rotary and RPCV groups together for mutual benefit
Implement a joint partnership Disaster Response Grant:
Connect with a group to partner with:

RPCVs, find a Rotary club near you

Rotary members, find an RPCV group or affiliate in your area

Learn about Rotary Disaster Response Grants. These grants are available to ANY Rotary district worldwide for $25,000 to support Ukraine or Ukrainian refugees.

With partners connected, apply for a grant. Email Kim Dixon if you have questions about partnering with Rotary and the Peace Corps community (kimydixon92@gmail.com),
History:
The Loret Miller Ruppe Award was created when Loret Ruppe was Director of the Peace Corps, since she did so much to expand the Peace Corps and the Returned Peace Corps Volunteer network. She was very supportive of the National Peace Corps Association with her time and her funding. The Ruppe Award was created to recognize outstanding RPCV group projects whether they were local or international. The important aspect to the award is that they could be a model for other groups to emulate and replicate.
---