In this issue: 1) The Power of the Pin; 2) Interview with Dr. Jody Olsen, Past Director of the U.S. Peace Corps;
3) Member Spotlight; and 4) Serve Virtually Through TCP Global.
On behalf of the Partnering for Peace (P4P) Board, we wish all our readers a Happy New Year!
Does this email not look right? Try viewing this email in a browser.
---
Save the Date!
Our next Membership Meeting will be held on Saturday, 27 February 2021.
Details are forthcoming. We will discuss plans for the year, and how you can become more involved.
---
The Power of the Pin
Written by Rotary International PDG, Ellen Young
When Rotary Past District Governor (PDG) Ellen Young awarded her daughter, Sarah, a Paul Harris Fellow award, she provided a valuable connection that would prove useful during Sarah's service as a U.S. Peace Corps Volunteer in the Dominican Republic. Between 2004 and 2009, Sarah, Ellen, and their Rotary club partners raised over $114,000 USD to develop small libraries and community computer labs throughout the Dominican Republic. Learn more about how the relationship between Peace Corps Volunteers and Rotary Clubs (both local and international) increase the possibility of meaningful community service projects.
In this article, Ellen shares her daughter's experience collaborating with local and international Rotary Clubs as a U.S. Peace Corps volunteer.
---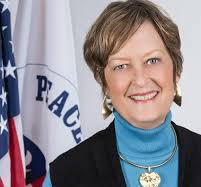 GCTV Interviews Dr. Jody Olsen, Past Director of the U.S. Peace Corps 
Dr. Jody K. Olsen, past Director of the United States Peace Corps, recently spoke with Bill Miller, of Global Connections Television (GCTV) and Board Member of Partnering for Peace. In this interview, Dr. Olsen highlights the importance of President John F. Kennedy's unique program to assist economically-developing countries, and discusses how the Peace Corps interacts with Rotary International and Partnering for Peace.
Listen to this interesting interview, as well as many other interviews from GCTV!
---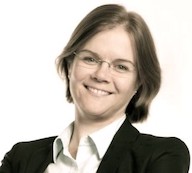 Member Spotlight - New Board Member
In December 2020, Partnering for Peace welcomed Chantelle Doerksen as the newest member of the Board. Chantelle is a return Peace Corps Volunteer (Paraguay), and a Rotary International Peace Fellow alumnus (University of Queensland). She has previously been involved with Mediators Beyond Borders International as chair of the Los Angeles Chapter. She is currently the co-chair of International Service for the Rotary e-Club of World Peace (District 5330).
Chantelle works as a Policy Specialist for the Internet Corporation for Assigned Names and Numbers (ICANN), and is based in the Los Angeles area. 
---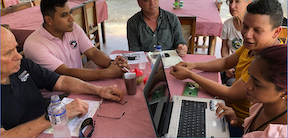 Serve Virtually Through TCP Global
Founded by Rotarian-RPCV, Helene Dudley, TCP Global funds NGOs around the world with microloans to support their missions without getting involved in their decision making. For more information, check out this video.
TCP Global is currently seeking community development and reporting mentors to support NGOs in successful implementation of their microloan. For more information on how to serve internationally, through the virtual space, email helenedudley@yahoo.com. You can also contribute financially to TCP Global.
For more information, please visit, https://tcpglobal.peacecorpsconnect.org.
---
Copyright © 2021

Partnering for Peace: Friends of Peace Corps and Rotary

, All rights reserved.
 

This email was sent by:
Partnering for Peace: Friends of Peace Corps and Rotary
7970 South Vincennes Way
Centennial , CO, 80112

 

You have received this email because you are a member or existing contact of Partnering for Peace: Friends of Peace Corps and Rotary, a membership organization powered by SilkStart. update notification preferences unsubscribe from this list