In this issue: 1) Rotary-Peace Corps Week in the words of John Hewko 2) PFP Presents on Rotary to RPCVs 3) Rotary Peace Fellows present at Global Peace Conference 4) Meet PFP's Newest Board Member 5) Interview with RI President Elect, Jennifer Jones

Does this email not look right? Try viewing this email in a browser.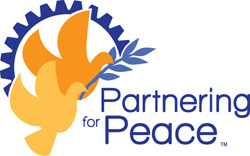 Is your calendar marked for Rotary - Peace Corps Week?
Check out our website for details on how to participate.
Connect with us on social media for regular updates.
Want an easy way to help out? We are looking for a few members who can share a total of 4 hours over the next two months to help out with social media posting. If you think you'd like to support this effort, reach out to
PFP President, Kim Dixon at kimydixon92@gmail.com
Why Participate in Rotary-Peace Corps Week?
Hear from John Hewko, Rotary International General Secretary about the significance of the first annual Rotary-Peace Corps week.
An easy way to participate is by playing this video at your next club meeting and sharing it on social media!
PFP Presents on Rotary as part of NPCA Global Reentry Webinar Program
"Rotary International as a Career Resource Opportunity for Continued Service" was presented on July 16th to RPCVs through the National Peace Corps Association (NPCA) Global Reentry Webinar Program. Kim Dixon, President of PFP, and Dick Pyle, PFP Board member and longstanding Rotary member, presented Rotary's vocational service area- a commitment to support Rotarians with mentoring and career support. Find the recording here along with other NPCA webinars to support RPCVs. 
Rotary Peace Fellows present at 2021 Global Peace Conference
Rotary Peace Fellows from the University of Bradford Class '19, including PFP member and RPCV, Shannon Carter, were invited to run a session titled "Building Back Better: Human trafficking and sexual violence in conflict and non-conflict setting" at the second inaugural 2021 Global Peace Conference hosted by the Rotary Peace Fellows Alumni Association. The 90-minute session used case studies from South Sudan, Colombia, the United States and North Korea to illustrate. Read the write up here and watch the presentation here. 
Meet Andy Lenec, PFP's newest board member
Andy has been volunteering with PFP for over a year and officially joined the board in May. A 30-year Rotary member and RPCV, Andy is the brainchild of Rotary-Peace Corps week and is leading PFP in carrying out the first annual event. Read Andy's fascinating story here. 
Interview with Jennifer Jones, Rotary International President-Elect
Jennifer Jones, who will be the first woman president of Rotary International in 2022, discusses key programs pertaining to diversity, peace, and the environment, and highlights the importance of partnerships, such as with the United Nations, US Peace Corps, the CDC and Partnering for Peace, especially on major programs such as Polioplus. Watch the whole interview here.
Partnering for Peace partners with Global Connections Television through board member Bill Miller.
Copyright © 2021

Partnering for Peace: Friends of Peace Corps and Rotary

, All rights reserved.
 

This email was sent by:
Partnering for Peace: Friends of Peace Corps and Rotary
7970 South Vincennes Way
Centennial , CO, 80112

 

You have received this email because you are a member or existing contact of Partnering for Peace: Friends of Peace Corps and Rotary, a membership organization powered by SilkStart. update notification preferences unsubscribe from this list